It makes good sense to weigh your RV as soon as possible, perhaps before you complete the purchase. There are many different weight ratings and no single one can tell you if you are under the maximum. It is also important to weigh all wheel positions to know if your rig is overloaded on one side or front to back. There are several ways to do this.
How to Weigh Your RV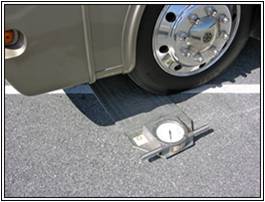 The RV Safety and Education Foundation has an excellent program for weighing RV's. They have been doing this for many years and have developed an excellent way to quickly and accurately weigh each wheel position of your RV and towed vehicle (for a motorhome) or tow vehicle (for towable RV's). This paid service is available a most major RV rally's and some RV shows across the country. Go to their website for a schedule at http://rvsafety.com/weighing/weighing-schedule. The first thing done is to record the weight data on the plate inside the RV. Then they place a scale device with a load cell under each front tire, and under each of the rear tires or if equipped, the set of dual tires. If the rig has a tag axle, a scale is placed under each tire of the tag axle. Once these weights are recorded, they place the scales under the tires of your towed vehicle (for motorhome) or towing vehicle (for trailers.)
At this point, the actual weights are calculated and compared against the inside data plate to determine any overweight conditions. They will also indicate the side to side weight differences. All this is given to you on a sheet indicating all weights recorded. You should have a tire pressure chart from the tire manufacturer indicating maximum suggested pressure for a range of axle weights. This will give you an indication of the proper tire pressure for the actual weight of your rig.
The Escapees RV Club also has a program called SMARTWEIGH that is quite similar to the RVSEF program. Escapees offer the service at 3 of their RV Parks in Bushnell, Florida, Livingston, Texas, and Congress, Arizona. They also offer it at their annual Escapade national rally and several other events. Check the link above.
Those are the only services I know about that will weigh individual wheel positions. You can use a commercial truck stop scale, but they will only weigh axle positions. That is still good information and you can determine all the measures posted inside your RV. You will not be able to determine your side to side weight differential. Here is a link to use a CAT scale at a truck stop.
To determine tongue and pin weights for travel trailers and fifth wheel trailers, first weigh the tow vehicle. Then hook up and drive on the scale truck only. Subtract the total you got with the truck alone and you have the tongue or pin weight. Those weights should be approximately 10 to 12% of total RV weight for travel trailers and approximately 20% for fifth wheel trailers. Then drive the trailer up on the scale one axle at a time to get the axle weights and the total. That will give you a pretty good idea if you are overweight on any of the primary measures.