Why do we need an RV Inspection? With used RV prices increasing at the same rate as new prices, it is often difficult to know if you are getting good value for the hard earned dollars you are paying for your new to you RV. Even new RV's have problems that must be fixed by the dealer before you can use the rig. With 65% of used RV sales happening between a private owner and a prospective owner, you don't even have the sometimes dubious assertions by a dealer that the rig you are buying is in good condition. The search process for the ideal RV for you is tedious enough without having to worry about unseen problems cropping up. What is the used RV buyer to do?
The RV Inspection
The answer is an RV inspection. Many dealers will provide you with a pre-delivery inspection or PDI for anywhere from 500 to 1500 dollars. They say they check out every system and make sure everything is working properly. Don't you suspect the seller is going to make sure that the inspection comes out OK? Of course it will because they have a vested interest in selling that rig without further expense to them.
Who, then, should do the inspection you ask? An independent trained RV inspector, that's who. You want someone who is not connected with the seller in any way and who has no interest other than to do a thorough inspection and deliver a concise and accurate inspection report. With that report in hand, you will have leverage with the seller if there are issues with the RV. You can ask for a price concession to cover problems found during the inspection. This actually works both ways. A prospective seller who thinks his rig is in good condition can get top dollar with a good inspection report to back up his claim. It might be a good idea to suggest that buyer and seller share equally in the cost of the inspection. The seller will get a better price and the buyer will know the true condition of the RV they are buying.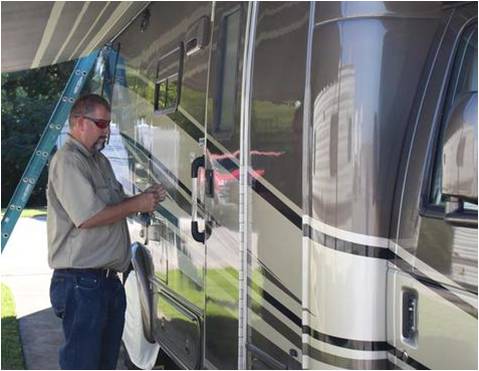 Contents of the RV Inspection
What should be inspected during an independent RV inspection? The first thing the inspector should do is compare the VIN number displayed on th plate in the RV with the Inspection request to ensure he is inspecting the rig that the prospective buyer is paying him to inspect. Hard to believe, but unscrupulous sellers will do a "bait and switch" to get rid of a problem plagued RV.
Next should be safety items that affect your life. All installed fire extinguishers should be checked for pressure and dry powder units should be shaken to stir up the powder. Installed alarms including fire and smoke, LP Gas, and Carbon Monoxide should all be checked for proper operation. The electrical system should be checked for a "hot skin test" so entering or touching the outside of the rig will not result in electric shock. The emergency exit(s) should be checked for proper operation. All wall receptacles and GFCI outlets should be checked for proper polarity and operation. A timed leak test should be performed at the gas cook-top. All these items are to ensure the RV
After the ID and safety items have been done, the inspection should include a thorough look at:
the roof looking especially for points of water intrusion and possible damage to rubber roof membrane if so equipped. Special places to look are any places where things like vents, air conditioners, etc come through the roof. All caulking must be inspected. Any suspicious points found on top should be looked at inside.
front and rear caps
slide-outs
awnings and slide toppers
chassis turn signal and running lights
120 volt AC electrical system
generator (if installed)
inverter (if installed)
battery system
fresh water system
waste water systems (grey and black)
propane system and tank(s)
refrigerator
water heater
furnace
cook top
air conditioner(s)
washer/dryer (if installed)
microwave
dishwasher (if installed)
exhaust fans
cabinets
furniture
entertainment system
shower
chassis and undercarriage
leveling system
If the rig is motorized:
steering
engine (possible oil analysis)
radiator (possible coolant analysis)
transmission (possible fluid analysis)
running gear (axles and tires, etc)
hitch system/hook-up.
Wow, that's a lot of stuff! How long will this RV Inspection take? That depends on the type of rig. Obviously a large diesel pusher will take as much as 8 hours while a Travel Trailer could be done in 2 or three. It also depends on the level of inspection you order up.
Making the RV Inspection Happen
Obviously, all this activity will require the rig being inspected to be in a place where full hook-ups are available and electric hook-up to the capacity of that rig. The inspector needs access for the entire time of the inspection as well. You, the inspection client must arrange for that as well as for payment of the inspection, usually in advance. The inspector or his company will prepare the inspection report and provide you with either an electronic file or both that and a printed inspection report. If fluid samples are involved, this could take as much as 5 or 6 business days.
I can't emphasize enough how important this RV inspection can be to give you the buyer the peace of mind that you are getting a rig in a known condition as well as giving you some leverage in the buying process. If a seller refuses to allow an inspection, don't walk away, run! There are plenty of used rigs and yours will be out there if you look long enough.
The NRVIA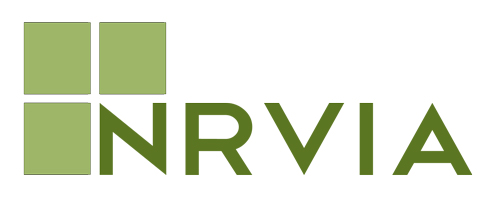 The National Recreational Vehicle Inspection Association(NRVIA) has been formed to provide a code of ethics and standards of practice for RV inspectors that qualify for membership. I highly recommend that any inspector you hire be an NRVIA certified inspector. He should have credentials to prove that.