Class B Motorhomes have been called camper vans or van campers.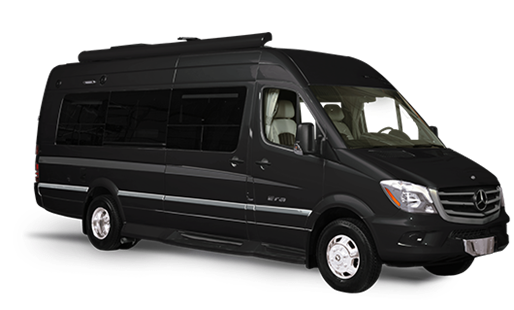 Of the three types of motorized RVs, Class B motor homes are the smallest. Commonly, a minivan or a full size van will be specially customized and turned into a mini RV. There are many professional conversion companies that do an excellent job of converting mini vans and full size vans into RVs. After their conversion, they don't look much different on the outside other than the "bubble top" extension they now have which allows people to walk upright in the interior of the van, and some vans also have a lowered floor to make even more headroom.
Most new Class Bs have slide rooms built in them. In the last several years, the Mercedes Benz "Sprinter" cargo van has been introduced in this country. With its diesel power and eighteen to twenty miles per gallon fuel economy, it was a natural to be turned into a class B motor home. There are at least seven or eight companies producing these including Winnebago with a Class B and a beautifully engineered twenty-five foot Class A on a Sprinter chassis. Recently, the Ram ProMaster chassis has been introduced. It is the North American version of the Fiat Ducato. This is a gas chassis that can accomodate both Class C and Class B Motorhomes. While the Class B may boast most of the amenities of larger coaches, the sheer small size and lack of storage makes them mostly unsuitable for full-time living. The holding tanks a quite a bit smaller than even a small Class C rig and the fuel and propane tanks are also smaller. Pricing on Class B Motorhomes is rapidly rising above the one hundred thousand dollar mark as well.
The Class B Motorhome is gaining popularity with current RVers who want to downsize and even full-time RVers who are coming off the road and want to travel occasionally.