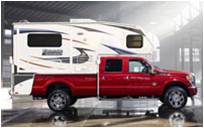 The slide-in Truck Camper is one type of RV that is neither motorhome or towable. It is essentially a box that slides into the truck bed and serves as living and sleeping quarters. These rigs make awesome hunting vehicles paired up with a four wheel drive truck. Some folks are able to live in their larger models as full-timers. Even with a camper on board, most trucks will still have some towing capacity, so this versatile rig can also tow a utility trailer or even a small car.
Truck Campers are available for almost all sizes of pick-up truck. Some of these units slide into the bed right up to where the tail gate was. Many of the larger units extend out past the end of the bed and down to the bumper. Some of the newer high end units can have as many as 3 slide outs. With a side door, one comes out the back. These units come equipped with all the convenience and luxury items that are found on motorhomes, but scaled down to fit the size of the box.
Weight is Critical
Weight is a critical issue with these units. The camper shell can weigh as much as 4000 pounds without cargo and filled water and propane tanks. Those units will require at least a very heavy duty truck. You may already have a truck and want a camper for it. You must research what campers will work with your truck's weight limitations. Ideally, you shop for the truck camper you want and then find the truck that can handle the weight. If you pick out a camper with slide outs, then you're looking at a 1 ton or better dual rear wheels long bed truck.
These campers can be equipped with hydraulic jacks that extend to the ground and lift the camper shell off the truck bed. Then you drive the truck away and the camper is useable without the truck.
Truck Camper Configurations
You can choose from hard sided units or a popup roof model. The popup roof extends the interior height so you can stand up inside. When lowered, the overall height is lowered and the rig can traverse some wooded terrain not possible in a hard sided rig. You should take a good look at both pop-up and hard-side models. Consider what you will be using the camper for. Off-road use will favor the lower clearance and lighter weight of a pop-up. If you want a more domestic feel, like to camp in colder environments, or are considering living full-time in your camper, the qualities of a hard-side model is likely to be a better option.
You might also decide whether you want a rear bath or a mid-bath. The mid-bath separates the rig into living and sleeping areas that some folks find desirable. You also must look at the type of bath. The wet bath uses the entire bathroom as a shower. The dry bath has a conventional but small shower.
Two major manufacturers of truck campers are Lance Camper and Northwood Manufacturing which makes the popular Arctic Fox models.
Pop-up Truck Camper