Travel trailers, in one of their many forms, are probably the first RV most folks will buy. Early rigs were mainly small and resembled a canned ham, a term used today to identify trailers of that era. Most of them were quite light and were on a single axle frame that could be pulled by many cars of the day. Currently, the pickup truck is the tow vehicle of choice. Today's trailer comes in lengths from 15 feet up to almost 40 feet with the larger models having triple axles. There are Teardrop styles as well as popups, park model trailers and even a hybrid trailer and popup trailer. Many have slide rooms that make them feel almost residential inside. Included in this group are the ever popular Airstream models.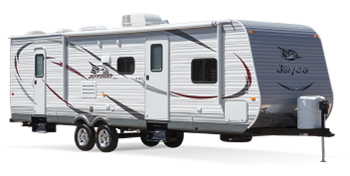 Small Travel Trailers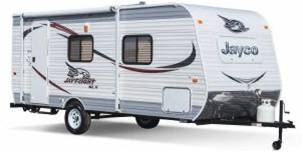 Smaller Trailers are extremely popular with young families camping mostly on weekends. This is largely due to their lower cost. Some features on the newer models include an outside kitchen with built-in gas grill and small refrigerator. This allows the sleeping areas inside to spread out without a galley taking up space. Outside built-in televisions are another popular option on these units.
Teardrop Trailers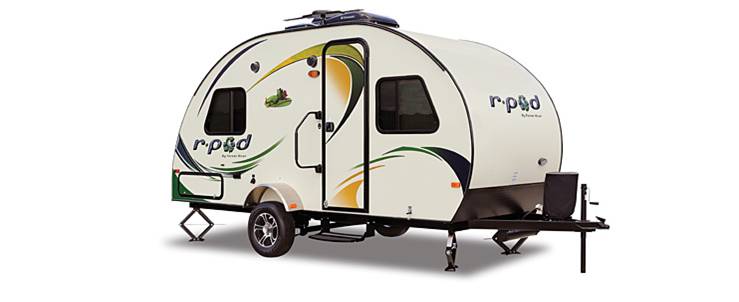 The teardrop style trailer was made extremely popular by the R-Pod branded models. They are very low and aerodynamic and their single axle configuration can be towed by many SUV's. There is room inside for a bed and little else. Sometimes. a compartment opens up in the back and turns into a camping kitchen.
Popup Trailers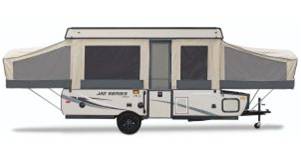 Popup Trailers are the ideal entry level unit for folks wanting to try the RV lifestyle. The very first rig we ever owned was a canvas sided aluminum framed popup with a wooden box for a body. We had a lot of fun with it. Nowadays, pop ups have come of age with rigid fiberglass or aluminum tops, often with air conditioners, skylights, and batwing TV antennas. The side wall material is often waterproof acrylic material. Once the roof is cranked up (or electrically raised) the sides fold down to form 2 large sleeping areas. Some of the larger ones even have a side slide-out room. Most of these are light enough to be towed with a Jeep or SUV. This is a great way for a young family to get into RVing.
Hybrid Trailers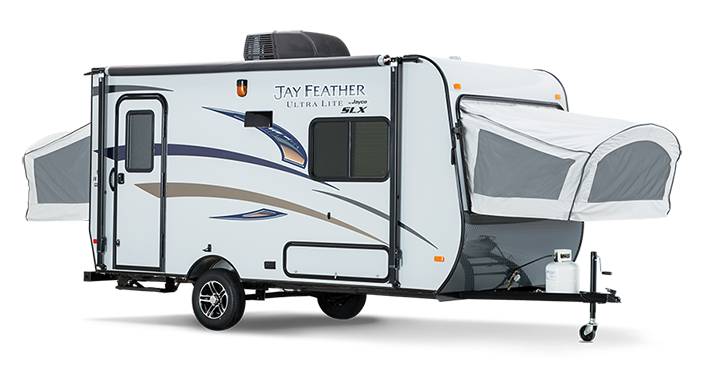 Hybrid Trailers combine the best features of a conventional small travel trailer with the extra sleeping features provided by fabric sided drop out sleeping platforms of a popup trailer.
Park Model Trailers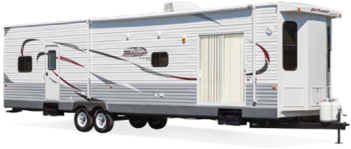 Park Model Trailers are a specialized type of trailer made to be set on a campsite for an extended period of time. Most do not have holding tanks as they will be hooked up when in use. They might have large double sliding doors as in a home.
Hitches for Travel Trailers
Almost all the pro's and con's associated with fifth wheel trailers apply to the larger travel trailer except for the method of hitching to the tow vehicle. The travel trailer connects to a hitch ball attached to the frame of the tow vehicle. In years gone by, small trailers would be hitched to a ball attached to the vehicle's bumper. Thus the term "bumper pull" still in use today to describe trailers using a ball type hitch.
Inherently, this type of trailers are not as stable on the road or as easy to maneuver and park as the fifth wheel trailer. Almost all of them should use special weight equalizing hitches. This will help to eliminate trailer sway, or the "tail wagging the dog" effect. In technical terms, sway is the fishtailing action of the trailer caused by external forces that set the trailer's mass into a lateral (side-to-side) motion. The trailer's wheels serve as the axis or pivot point. This is also known as "yaw." The weight equalizing hitch is designed to damp the swaying action of a trailer, either through a friction system or a "cam action" system that slows and absorbs the pivotal articulating action between tow vehicle and trailer.
The Hensley Manufacturing Company has developed the "Arrow" model that projects the pivot point of the trailer forward and over the rear axle of the vehicle, which is what a 5th wheel hitch does. They even guarantee that your travel trailer will not sway with their hitch in place. Check them out at Hensley Hitch.