The fifth wheel trailer, affectionately known as the "Fiver", is very popular and is probably the most common towable for full time RVers. The trailer connects to the tow vehicle directly over the bed with a special fifth wheel hitch, similar to that on a semi tractor's hitch to its trailer. This causes several feet of the connected trailer to hang over the tow truck, placing about eighteen to twenty percent of the trailer's weight on the rear axle of the truck. Usually the bedroom is located in this raised forward section, but some newer fivers have the living room there.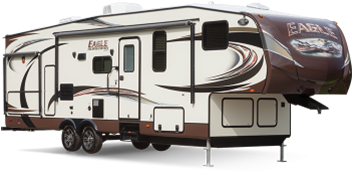 A main advantages of a fifth wheel trailer is that it's easier and safer to tow than travel trailers, but requires more caution and skill than motor homes. They also tend to be easier to back up than travel trailers. Their spacious, open floor plans are quite suitable for full time RVers. Numerous slide-outs provide an almost residential space. They have the most living space of all trailer type RVs, and provide more interior space per foot than a motor home because it does not contain driving and engine compartments. The tow vehicle doubles as local transportation, but large trucks aren't much fun in crowded grocery store parking lots.
On the down side, a fiver doesn't have nearly the storage capacity of a motor home. They may not have the cargo carrying capacity to carry a lot of excess "stuff". The tow truck requires a fifth wheel hitch in the truck bed which is removable. Larger three axle trailers can require a medium duty truck to provide the power to get them up hills and mountains and be able to stop on the way down. The living area is largely inaccessible while moving because the slide out rooms are in. I have seen folks towing cars, boats, and motorcycles and ATV's behind fifth wheel trailers. This "triple tow" is illegal in many states, and provides some interesting handling issues. The larger models can be difficult to maneuver in tight spaces. On tall models, top clearance can be a problem under low branches and structures. It gets worse if there are items on the roof such as canoes.
Toy Hauler Fifth Wheel Trailers
The term toy hauler is applied mostly to fifth wheel trailers, and it describes an RV designed to carry toys—small cars, dune buggies, four wheelers, motorcycles, etc. A distinguishing feature of a toy hauler is the large door in the back which opens down to create a ramp. The dedicated garage area or fold-away furniture is typically stored in the main living compartment, and usually a third axle to support the heavy toys. That garage space can also be used as a second bedroom with beds dropping from the ceiling on rails. They also make a great office, craft room, and workshop. There are a few travel trailers and motor homes set up as toy haulers also.